Workman Home and Cemetery
California State Historic Landmark 874
---
Plaque Photo: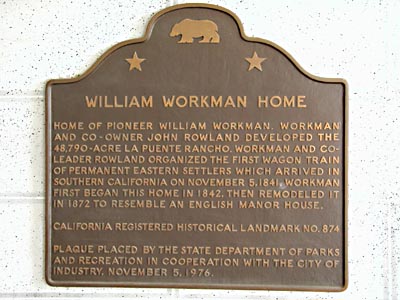 10/11/01
#874 William Workman Home
Home of pioneer William Workman. Workman and co-owner John Rowland developed the 48,790-acre La Puente Rancho. Workman and co-leader Rowland organized the first wagon train of permanent Eastern settlers which arrived in southern California on November 5, 1841. Workman first began this home in 1842, then remodeled it in 1872 to resemble an English manor house.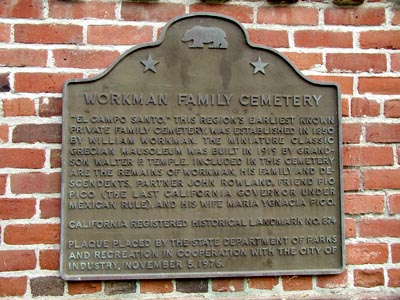 10/11/01
#874 Workman Family Cemetery
"El Campo Santo," this region's earliest known private family cemetery, was established in 1850 by William Workman. The miniature classis Grecian mausoleum was built in 1919 by grandson Walter P. Temple. Included in this cemetery are the remains of Workman, his family and descendants, partner John Rowland, friend Pio Pico (the last California governor under Mexican rule), and his wife Maria Ygnacia Pico.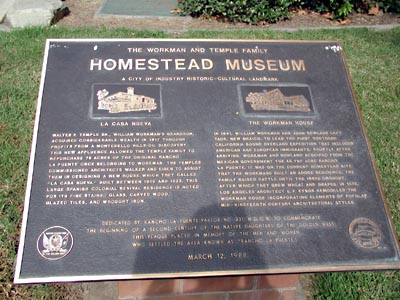 10/11/01
#874 The Workman and Temple Family
Homestead Museum
A City of Industry Historic-Cultural Landmark
La Casa Nueva
Walter P. Temple Sr., William Workman's grandson, acquired considerable wealth in 1917 through profits from a Montebello Hills oil discovery. This new affluence allowed the Temple family to repurchase 75 acres of the original Rancho La Puente once belonging to Workman. The Temples commissioned architects Walker and Eisen to assist them in designing a new house which they called "La Casa Nueva." Built between 1919 and 1923, this large Spanish Colonial Revival residence is noted for its fine stained glass, carved wood, glazed tiles, and wrought iron.

The Workman House
In 1841, William Workman and John Rowland left Taos, New Mexico, to lead the first southern California bound overland expedition that included American and European immigrants. Shortly after arriving, Workman and Rowland acquired from the Mexican government the 48,790 acre Rancho La Puente. It was on the current homestead site that the Workmans built an adobe residence. The family raised cattle until the 1860s drought, after which they grew wheat and grapes. In 1872, Los Angeles architect E.F. Kysor remodeled the Workman house incorporating elements of popular mid-nineteenth century architectural styles.
---
Site Photo: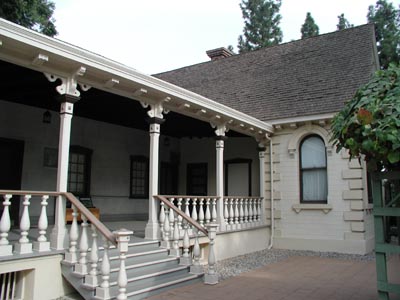 10/11/01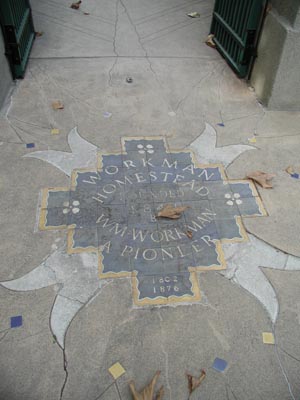 10/11/01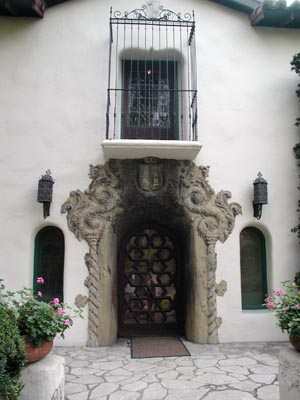 10/11/01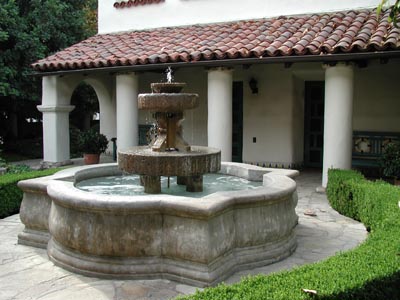 10/11/01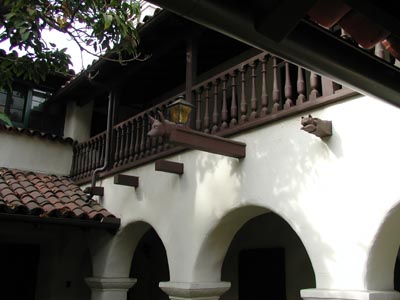 10/11/01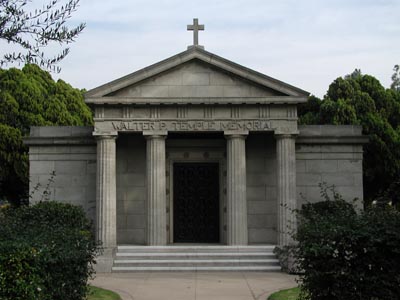 10/11/01


---
Location:
Two plaques - one at back of Workman home and one on cemetery wall, 15415 E Don Julian Rd, City of Industry.



Return to other landmarks in Los Angeles county.
---


Send comments to:
Donald Laird