Pedro Fages Trail
California State Historic Landmark 858
---
Plaque Photo: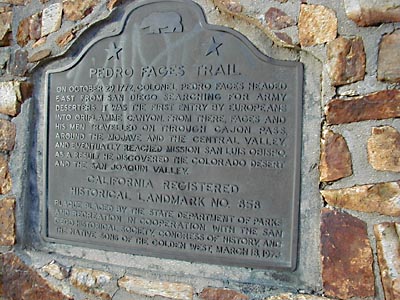 01/28/00
#858 Pedro Fages Trail
On October 29th, 1772, Colonel Pedro Fages headed east from San Diego searching for army deserters. It was the first entry by Europeans into Oriflamme Canyon. From there, Fages and his men traveled on through Cajon Pass, around the Mojave and the Central Valley, and eventually reached Mission San Luis Obispo. As a result, he discovered the Colorado Desert and the San Joaquin Valley.
---
Site Photo:


Nothing remains of this site.

---
Location:
1.7 mi SE of intersection with Hwy 79 (PM 14.5) on Sunrise Hwy (County Rd S1, PM 36), 8 mi SE of Julian.



Return to other landmarks in San Diego county.
---


Send comments to:
Donald Laird