Discovery of Last Yahi Indian
California State Historic Landmark 809
---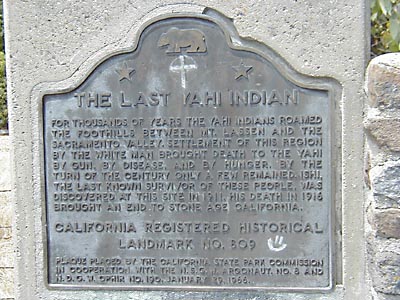 06/11/99
#809 The Last Yahi Indian
For thousands of years the Yahi Indians roamed the foothills between Mt. Lassen and the Sacramento Valley. Settlement of this region by the white man brought death to the Yahi by gun, by disease, and by hunger. By the turn of the century only a few remained. Ishi, the last known survivor of these people, was discovered at this site in 1911. His death in 1916 brought an end to stone age California.
---


Nothing remains of this site.

---
2547 Oroville-Quincy Hwy at Oak Ave, Oroville.



Return to other landmarks in Butte county.
---


Send comments to:
Donald Laird