Hernando De Alarcon Expedition
California State Historic Landmark 568
---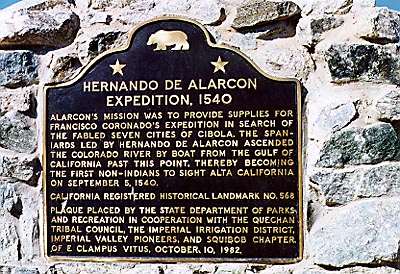 05/21/98
#568 Hernando De Alarcon Expedition, 1540
Alarcon's mission was to provide supplies for Francisco Coronado's expedition in search of the fabled seven cities of Cibola. The Spaniards led by Hernando De Alarcon ascended the Colorado River by boat from the Gulf of California past this point, thereby becoming the first non-indians to sight Alta California on September 5, 1540.
---


Nothing remains of this site.

---
On Algondes Rd, Hwy 186 (PM 0.4), 0.5 mi S of I-8, 0.4 mi N of Andrade border, Andrade.



Return to other landmarks in Imperial county.
---


Send comments to:
Donald Laird