El Campo Santo
California State Historic Landmark 68
---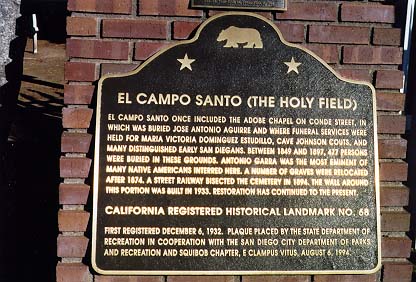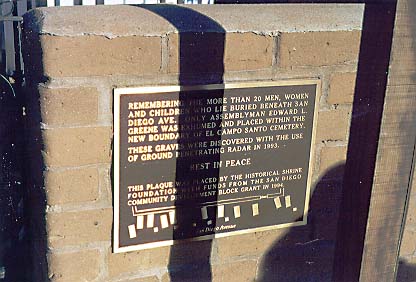 12/02/96
#068 El Campo Santo (The Holy Field)
El Campo Santo once included the adobe chapel on Conde Street, in which was buried Jose Antonio Aguirre and where funeral services were held for Maria Victoria Dominguez Estudillo, Cave Johnson Couts, and many distinguished early San Diegans. Between 1849 and 1897, 477 persons were buried in these grounds. Antonio Garra was the most eminent of many Native Americans interred here. A number of graves were relocated after 1874. A street railway bisected the cemetery in 1894. The wall around this portion was built in 1933. Restoration has continued to the present.
---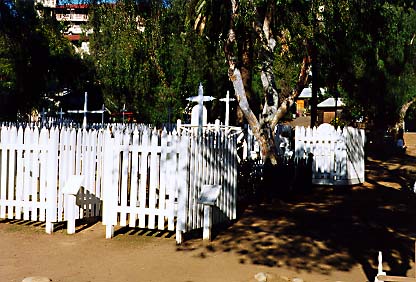 12/02/96

---
NE corner of intersection of San Diego Ave and Arista St, San Diego.

---
At some point in the past, a street was run through the grounds of the cemetery. Only one of the graves was moved, however. Recently, ground-penetrating radar was used to locate the precise locations of the gravesites that are still under the city street.
---

Return to other landmarks in San Diego county.
---


Please note: I have no connection to any organizations mentioned on this site.

Site contents copyright 1996-2000 by Donald Laird - all rights reserved

Send comments to:
Donald Laird