Old La Playa
California State Historic Landmark 61
---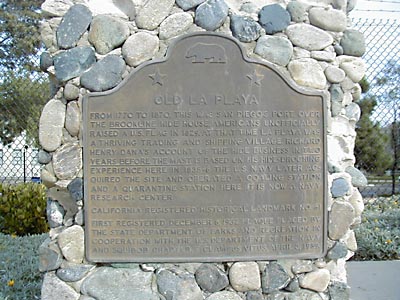 12/02/96
#061 Old La Playa
From 1770 to 1870, this was San Diego's port. Over the Brookline hide house, Americans unofficially raised a U.S. flag in 1829. At that time La Playa was a thriving trading and shipping village. Richard Henry Dana's account of the hide business in Two Years Before the Mast is based on his hide-droghing experience here in 1835-6. The U.S. Navy later acquired the site and operated a coaling station and a quarantine station here. It is now a Navy research center.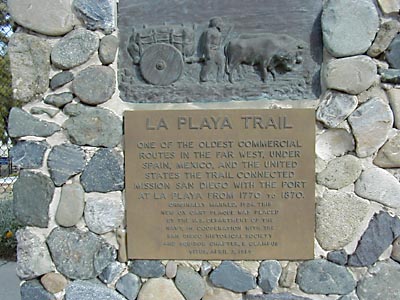 01/28/00
#061 La Playa Trail
One of the oldest commercial routes in the far west. Under Spain, Mexico, and the United States the trail connected Mission San Diego with the port at La Playa from 1770 to 1870.
---


Nothing remains of this site.

---
On left side of Rosecrans St, at entrance to Military Reserve, Point Loma, San Diego.



Return to other landmarks in San Diego county.
---


Please note: I have no connection to any organizations mentioned on this site.

Site contents copyright 1996-2000 by Donald Laird - all rights reserved

Send comments to:
Donald Laird