Mission Dam and Flume
California State Historic Landmark 52
---
Plaque Photo: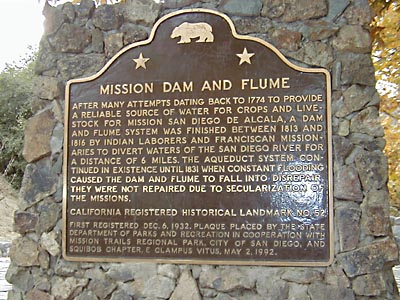 12/01/99
#052 Mission Dam and Flume
After many attempts dating back to 1774 to provide a relaible source of water for crops and livestock for Mission San Diego de Alcala, a dam and flume system was finished between 1813 and 1816 by Indian laborers and Franciscan missionaries to divert waters of the San Diego River for a distance of 6 miles. The aqueduct system continued in existence until 1831 when constant flooding caused the dam and flume to fall into disrepair. They were not repaired due to secularization of the missions.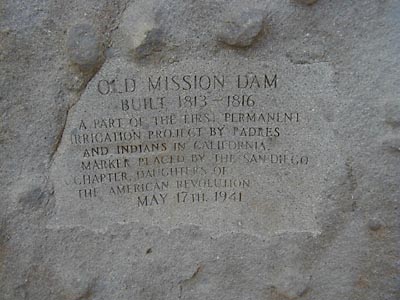 12/01/99
#052 Old Mission Dam
Built 1813 - 1816
A part of the first permanent irrigation project by padres and indians in California. Marker placed by the San Diego chapter, Daughters of the American Revolution
May 17th, 1941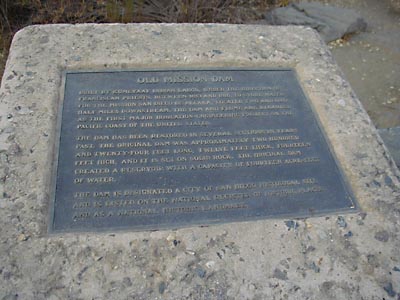 12/01/99
#052 Old Mission Dam
Built by Kumeyaay Indian labor, under the direction of Franciscan priests, between 1813 and 1816, to store water for the Mission San Diego de Alcala, located two and one-half miles downstream, the dam and flume are regarded as the first major irrigation-engineering project on the Pacific coast of the United States.
The dam has been restored in several sections in years past. The original dam was approximately two hundred and twenty-four feet long, twelve feet thick, fourteen feet high, and it is set on solid rock. The original damcreated a reservoir with a capacity of fourteen acre-feet of water.
The dam is designated a City of San Diego historical site and is listed on the National Register of Historic Places and as a National Historic Landmark.
---
Site Photo: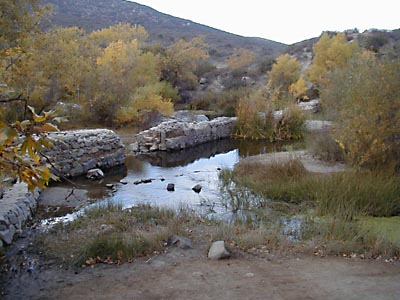 12/01/99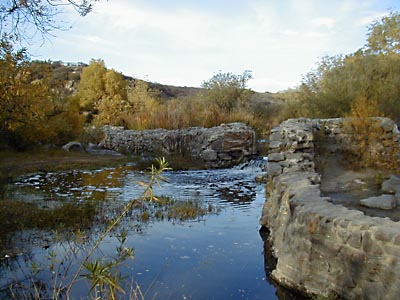 12/01/99

---
Location:
Old Mission Dam Park, Fr. Junipero Serra Trail, 1.9 mi N of Mission Gorge Rd, San Diego.



Return to other landmarks in San Diego county.
---


Send comments to:
Donald Laird