Ballast Point Whaling Station
California State Historic Landmark 50
---
Plaque Photo: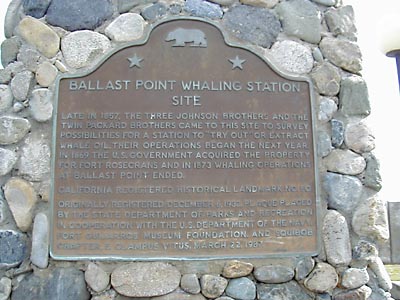 01/28/00
#050 Ballast Point Whaling Station Site
Late in 1857, the three Johnson Brothers and the twin Packard brothers came to this site to survey possibilities for a station to "try out" or extract whale oil. Their operations began the next year. In 1869 the U.S. government acquired the property for Fort Rosecrans and in 1873 whaling operations at Ballast Point ended.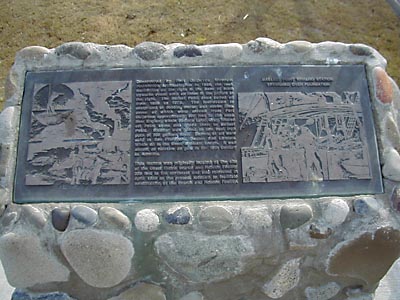 01/28/00
#050
Discovered by Fort Guijarros Museum Foundation archaeologists in 1988, the rock foundation on the right is the base of brick tryworks ovens such as those in the picture to the right. The Ballast Point oven boiled oil from 1858 to 1873. The foundation is comprised of cobble, mortar and adobe tiles, some of which were moved from Fort Guijarros approximately 800 feet to the west. New England whale hunters killed Gray Whales off Point Loma and towed them to Ballast Point. Blubber was boiled in two cast iron pots of 300 gallon each. Barrels of oil were sold in San Francisco, Boston and London. Whale oil is the finest lubricant known. It was almost as valuable as gold in the 19th century in America.
This feature was originally located at the site of the Coast Guard Search and Rescue Facility 200 feet to the northeast and was relocated in April 1989 to the present location to facilitate construction of the Search and Rescue Facility.
---
Site Photo: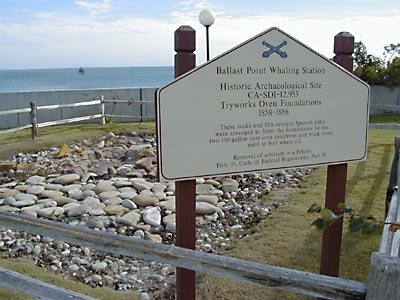 01/28/00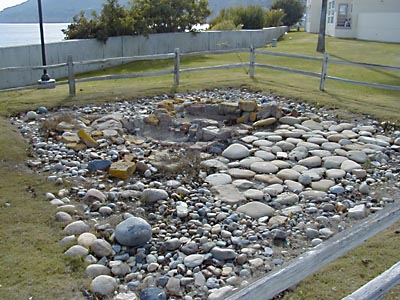 01/28/00

---
Location:
End of Rosecrans St, where the landmark plaques are in a half-circle, US Navy Sub Base, Point Loma.



Return to other landmarks in San Diego county.
---


Send comments to:
Donald Laird